Main Menu
~ Click Book or Article Title to Go to Source ~
---
Books & Online Articles – on a potpourri of topics, by John Correll
• Paradigm for Positive Psychology - A way for positive psychology to avoid dissolution, enhance positive impact, and create a true science
• Make Weight Loss Stick! - The #1 Reason Why We FAIL at Keeping Lost Weight Off (Plus the EASIEST Way to Make Weight Loss Stick!)
• Employee Motivation - The Top Three, Top Five, and Top Ten Motivators to Motivate Team Members to Excellent Job Performance and Job Satisfaction
• Full-force Conceptioning - New marketing strategy for out-conceptioning your competition and maximizing customer loyalty. Truly powerful.
• Wow the Customer, Exceed Expectations! - WHY This Is the Most Misguided Management Mantra of the Century … and What to Do About It. ~ A small book.
• The Original Encyclopizza - If you're serious about pizza-making and quality pizza, THIS 400+ page book is a must-have resource. It can be purchased through amazon.com. It's available in both paperback and Kindle Textook formats. Amazon offers it as a Matchbook set, which means, after you purchase the paperback book you can get the Kindle e-book version for FREE. The last time I checked, (a) the e-book version can be accessed via your computer, a tablet (including i-pad), and/or a smartphone (including i-phone), and (b) you can download a free app for each of these devices from Amazon, which is needed for viewing this Kindle e-book.
• INJURED - Doing Football Is One of the CRAZIEST Things We Do, But We Can Fix This Disgracefully Injurious Pursuit ~ A small book
• Please, McDonald's, Do a REAL Fix This Time - Customer for 50 Years Shares Thoughts on How to Recapture the Glory Days ~ A small book
• Bicycling Michigan's Northland in 2013 - A Pictorial Story of Two Senior Guys Who Bike-toured Michigan's Picturesque Eastern Upper Peninsula for a Week in 2013
• Boat Conversion - Basic Utility Boat Transformed into a Walleye Dream Boat [an online article, not a book]
• Tribute to Melvin Correll - Lived 1919–2009 [an online document, not a book]
• Tribute to Glenna Correll - Lived 1921–2014 [an online document, not a book]
• John Correll has written and published a number of other books now out of print, including Sanitation Now – a restaurant manager's guide to effective sanitation management (1972), and also Applied Cooking Technology for the Food Service Operator (1979).
---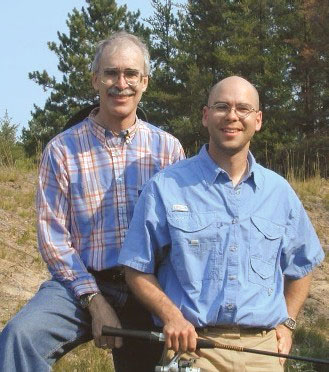 My son Will and me fishing in Michigan's Upper
Peninsula, 2007. (I'm the one with the smidgeon
of hair on top.)
For short Bio of John Correll, click here.
For full CV, click here.
To send an email, click here email.
This website and its entire content is created, owned, and presented by Correll Consulting, LLC.
Copyright © 2002-2016, Correll Consulting, LLC. All rights reserved. Our Legal Notice.