Main Menu
(click book title for more info)
Winning at Weight-control
• Weight-control Success - NEW! - A Step-by-Step Method — Takes Only Minutes a Day — Can Be Combined with Any Dietary Program — and Is Easy to Do
• The Secret to Easier Calorie Control - Book read-time: 25–35 minutes. Daily application time: zero minutes. Can be combined with almost any dietary program.
---
Leadership and Performance-building
• Employee Motivation - The Top Three, Top Five, and Top Ten Motivators to Motivate Team Members to Excellent Job Performance and Job Satisfaction.
• COMING SOON! Team Performance-building - How to Create a Performance-building Department that Creates the Four Conditions to Excellent Employee Performance.
---
Marketing and Sales-building
• Full-force Conceptioning - New marketing strategy for out-conceptioning your competition and maximizing customer loyalty. Truly powerful.
• Wow the Customer, Exceed Expectations! - WHY This Is the Most Misguided Management Mantra of the Century … and What to Do About It.
---
Pizzeria Operations and Technology
• History of Pizza Packaging - Everything you probably never knew about how pizza boxes evolved in our society [an online article, not a book]
• The Driver's Handbook™ - FREE How-to Manual for Pizza Delivery Drivers
• The Original Encyclopizza - If you're serious about pizza-making and quality pizza, THIS is a must-have resource book.
• Pizza Wine - Huge Opportunity Begging to Be Mined [an online article, not a book]
• Dough & Crust Troubleshooter (now part of Encyclopizza®)
---
Following, in case you're interested, are several random online articles written years ago by John Correll for inclusion in CorrellConcepts.com.

---
Personal Pursuits — Biking, Boats, & More
• Bicycling Michigan's Northland in 2013 - A Pictorial Story of Two Senior Guys Who Bike-toured Michigan's Picturesque Eastern Upper Peninsula for a Week in 2013.
• Boat Conversion - Basic Utility Boat Transformed into a Walleye Dream Boat.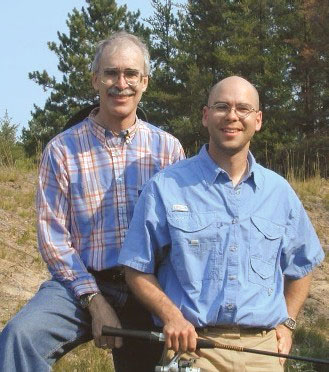 My son Will and me fishing in Michigan's Upper
Peninsula, 2004. (I'm the one with the smidgeon
of hair on top.)
"A bad day of fishing is better than a good day at most jobs. But it isn't better than an average day at creative self-employment."
John Correll at email.
This website and its entire content is created, owned, and presented by Correll Consulting, LLC.
Copyright © 2002-2013, Correll Consulting, LLC. All rights reserved. Our Legal Notice.