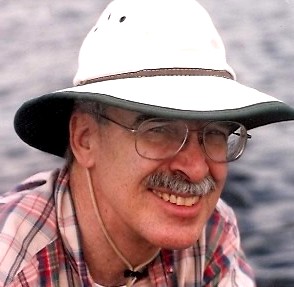 John Correll - photo circa 2005
JOHN began his work career in 1954 at age ten as a cook's helper in Correll Catering, a family-owned business. In 1967 he was the first hourly employee in the sixth Domino's Pizza to open. In 1973 his consulting career began with the start-up of Correll Consulting. His academic credentials include a B.S. degree from Adrian College and an MBA from Michigan State University.
John's broad job history includes dishwasher, cook, busboy, pizza-maker, sandwich-maker, delivery driver, hotel F&B director, restaurant manager, pizzeria manager, catering operations manager, corporate sanitation director, corporate training director, pizza company entrepreneur, chain vice-president, college educator, international consultant, packaging designer, independent inventor (he holds 43 patents), and writer.
Along the way he founded two unique pizza companies and pioneered a number of innovative firsts including conveyorized pizza-baking, 5-minute pizza-baking, personal-size pizza, 1-minute pizza, breakfast pizza, low-calorie pizza, the Super Sunday promotion, and World's Longest Pizza. John holds over 40 patents and has authored over 120 articles on restaurant-pizza marketing and operations, published a half-dozen groundbreaking how-to books including the first book written exclusively for pizzeria operators, instructed restaurant management courses at four universities, created manuals and delivered seminars on virtually every topic in the pizzeria business, including writing the original Domino's Pizza Store Operations Manual and Encyclopizza®.
In 1973 he founded Correll Consulting, The Original Pizza Industry Consulting Co™. He has consulted extensively throughout the pizza industry with clients ranging from single-unit pizzerias to billion dollar corporations, both in the U.S. and abroad. For a listing of Correll Consulting clients and projects, see pages 8-11 of Correll CV.
In 1993 he founded Correll Concepts — a world-leading inventor of packaging concepts for the pizza industry.
Since 2008 he has been pursuing a career of full-time book writing and publishing. The publishing imprint for most of his books is Fulfillment Press, which is also a DBA of Correll Consulting, LLC.
For complete CV (or resumé), click here.