---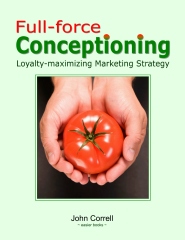 If your company exists in a competitive arena (as most companies do), to build profit over the long term you must build sales over the long term. To build sales over the long term you must out-perform your competitors at retaining customers — which means, out-performing them at building customer loyalty. To out-perform your competitors at building customer loyalty you must out-conception them. That is, you must do a more effective job than they do at creating the type of positive impressions, or conceptions, that create customer loyalty.
This book gives you a powerful marketing strategy by which you can out-conception your competitors, or maximize customer loyalty and long-term sales through creating more-positive conceptions than your competitors are creating within the mind of your customers and potential customers. We call this new marketing strategy full-force conceptioning. This book discloses the dynamics of full-force conceptioning.
To explain these dynamics the book uses an exemplary working example. It's a company called Stanislaus Food Products — a California tomato packing company that makes canned tomato products for the restaurant and pizzeria industry. To illustrate the essential actions involved in full-force conceptioning the book refers to what this company has done and is still doing. This comprises a set of actions that has resulted in one of the most loyal, unwavering customer bases of any company in any industry.
We use this "exemplary example approach" to a create a short, reader-friendly book. Yes, this book is purposely designed to be short and easy. This is so the marketing strategy disclosed therein — full-force conceptioning — can be captured in a minimum amount of time.
It's the author's conclusion that any enterprise could adapt this strategy to its particular business and industry. And, that if that were done it would result in building customer loyalty and long-term sales.
This book builds on the marketing dynamics set forth by Jack Trout and Al Ries in their books on positioning and differentiation of the past three decades.