---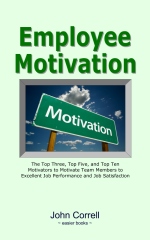 Are you getting all the performance you need from both your enterprise and employees (a.k.a. team members)? Employee motivation is the big challenge facing organizations today — including business organizations. The fundamental question is: "How exactly do we motivate our employees, or team members, to do their job the way it needs to be done and enjoy it, too?"
Everything a business does that amounts to a lasting forward step depends on deriving the correct answer to this question. This book discloses that answer. It gives you the top three, top five, and top ten motivators to building greater employee job performance, both individually and as a team.
In short, employee motivation is the vital ingredient to achieving performance progress and realizing enterprise goals. That's why this book was created.
This is an EASY-READ book — small pages, large text, ample white space, clearly written, logically organized in step-by-step form. It can be read in entirety in less than 60 minutes.